Man in his 40s detained over attack that left three people with stab wounds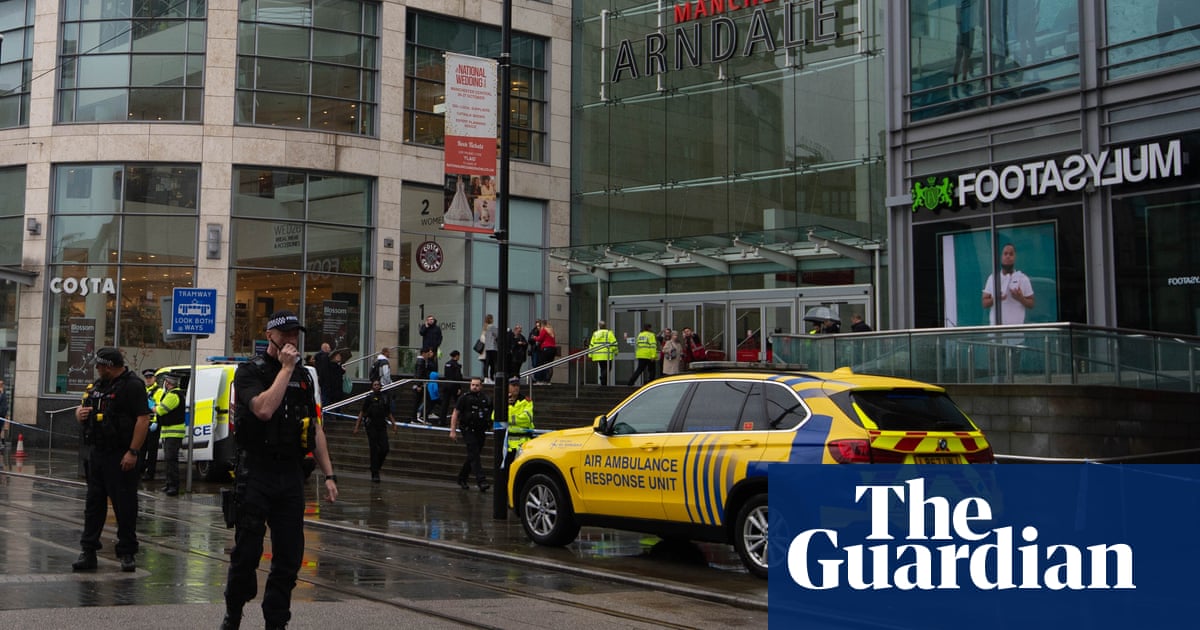 A man detained after a multiple stabbing at the Arndale shopping centre in Manchester has been formally arrested on suspicion of planning an act of terrorism, police have said.
Three people were stabbed and another suffered a superficial wound when a man ran amok with a large knife shortly after 11am on Friday. A fifth person was treated at the scene for shock.
Greater Manchester polices assistant chief constable, Russ Jackson, said two unarmed police community support officers had attempted to confront the attacker when he turned on them and chased them with the knife.
Jackson said the man, who is believed to be British and from the Manchester area, attacked people around him as armed officers raced to the scene. Jackson said the man was initially detained on suspicion of serious assaults before later being arrested on suspicion of commission, preparation and instigation of an act of terrorism.
He added: We do not know the motivation for this terrible attack. It appears random, is certainly brutal and of course extremely frightening for anyone who witnessed it.
Jackson said the incident was bound to bring back memories of the awful events of 2017 when a suicide bomber killed 22 people and injured hundreds more at Manchester Arena on 22 May 2017.
He said: At this time we do not believe that there is anyone else involved in this attack but we will be constantly keeping this under review. We have specially trained officers supporting those injured from the attack.
Well have increased patrols, including armed patrols, in the city centre this weekend. This is to reassure people, but we do not believe there is a wider threat at this time and we are hoping to return the city to normality by tomorrow morning.
Three people a 19-year-old woman, a second woman and a man in his 50s were taken to hospital for stab wounds but their injuries are not believed to be life-threatening.
MI5, the domestic security service that leads on counterterrorism investigations, was also monitoring events in Manchester following the stabbings.
Video footage and photographs showed armed police officers deployed around the Exchange Square side of the shopping centre. One clip showed officers using a Taser and holding a man to the ground before arresting him.
In other video and pictures posted on Twitter, a large number of emergency service vehicles were seen arriving at the centre.
Footage showed people being taken away on stretchers, and members of the public were asked to stay away from the shopping centre.
Armed police officers wearing face coverings were stationed outside the shopping centre as a long queue of ambulances arrived and a police helicopter hovered overhead. Plainclothes detectives arrived at the scene while uniformed officers told people the Arndale would be closed for some time.
Bernadette Westhall, 55, said she saw people running for their lives and screaming as the attack unfolded.
Westhall was in the toilets on the ground floor near a Starbucks cafe when she heard a commotion. I was coming out of there and everybody was just screaming and running for their lives. I ran straight into a shop and stayed in there until the coast was clear. It was a lady that he attacked.
A witness who took video footage of a man being Tasered outside the shopping centre said the suspect was screaming.
John Greenhalgh, 30, was travelling on a tram when it stopped suddenly. You could tell it was something quite serious there were a lot of armed police. They were there very quickly.
The tram was evacuated and we were put in the back of a van. We werent told what was happening, he said. There was a guy sitting on the floor screaming.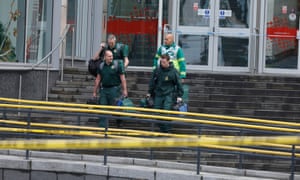 Original Article : HERE ; The Ultimate Survival Food: The Lost Ways