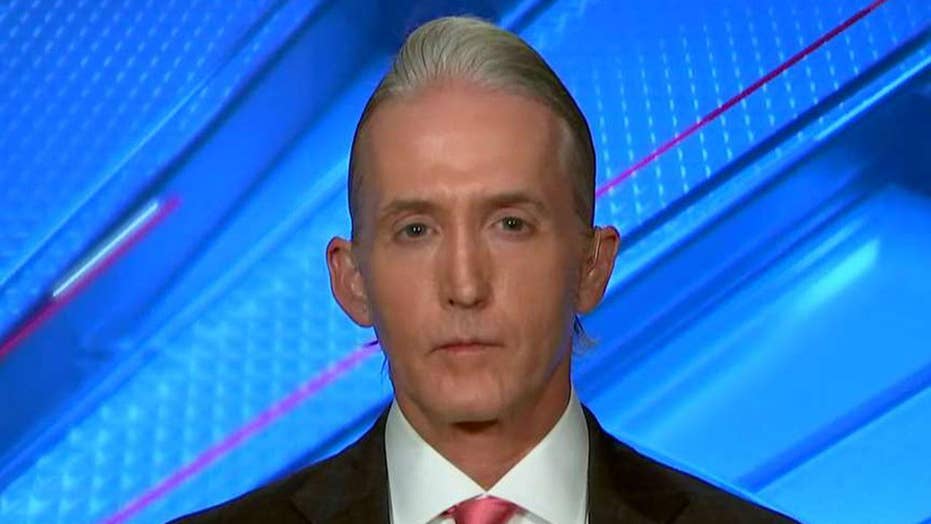 FILE – In this May 29, 2019, file photo, Special counsel Robert Mueller speaks at the Department of Justice in Washington, about the Russia investigation. (AP Photo/Carolyn Kaster, File)
The House Judiciary Committee hearing is set to begin at 8:30 a.m. ET, and conclude at approximately 11:30 a.m. ET. The House Intelligence Committee hearing is slated to start at around noon, and last until 2:30 p.m. ET.
Drama marked the hours leading up to the hearing, when in an extraordinary letter late Tuesday, House Intelligence Committee Chairman Adam Schiff, D-Calif., wrote to Mueller to instruct him to disregard the guidance the DOJ issued to him on Monday.
Attorney General Bill Barr told Fox News on Tuesday that it was Mueller's team who asked the Justice Department to send Mueller a letter telling him to keep his upcoming testimony to House lawmakers "within the boundaries" of the public version of his Russia probe report.
The letter provoked criticism from Democrats ahead of Wednesday's highly anticipated hearing, with House Judiciary Committee Chairman Jerry Nadler calling it "incredibly arrogant." Asked by Fox News why the Monday letter was sent, Barr said Mueller's staff asked the department for guidance ahead of the hearing.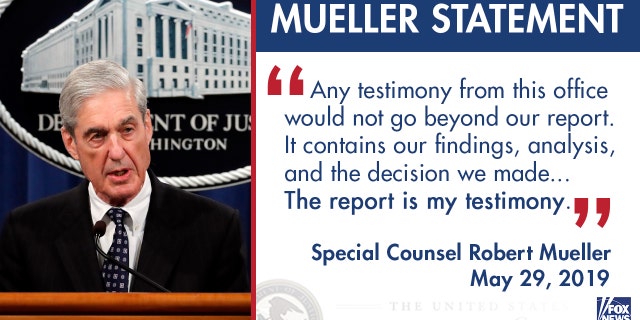 Gowdy added: "It's interesting to me whether or not you can even obstruct an un-predicated investigation. Can you even obstruct something that never even should have begun?"
Mueller is also likely to be asked about his own tensions with Barr over how the report was handled and how its findings were communicated to the public. Mueller complained privately to Barr in March that the attorney general's four-page letter summarizing the main findings of his report "did not fully capture the context, nature and substance of this office's work and conclusions."
Barr, in turn, has called Mueller's note "a bit snitty."
Although the day could turn out to be a predictable retelling of his report, Mueller sprang some surprises on the White House at the eleventh hour. On Tuesday, Democrats granted Mueller's request to have his top aide in the investigation, Aaron Zebley, sit at the table with him. Zebley will be able to answer questions before the intelligence committee, where, a committee aide said, he will be sworn in.
Trump derided the decision as "unfair" and a "disgrace to our system."
"Just got back only to hear of a last minute change allowing a Never Trumper attorney to help Robert Mueller with his testimony before Congress tomorrow," Trump tweeted. "What a disgrace to our system. Never heard of this before. VERY UNFAIR, SHOULD NOT BE ALLOWED. A rigged Witch Hunt!"
Republicans have spoken out against the last-minute change, calling it an "apparent stunt" by Democrats. Rep. Doug Collins, R-Ga., the Judiciary panel's top Republican, said the move "shows the lengths Democrats will go to protect a one-sided narrative from a thorough examination by committee Republicans."
DOJ BLAMES SYSTEM-WIDE SOFTWARE GLITCH FOR MISSING TEXTS; STRZOK AND PAGE'S SPECIAL COUNSEL PHONES TOTALLY WIPED
A source close to Mueller told Fox News, "Aaron Zebley was the Deputy Special Counsel and had day-to-day oversight of the investigations conducted by the Office. He will accompany Special Counsel Mueller to the Wednesday hearings, as was discussed with the committees more than a week ago."
Judiciary Committee Republicans say Zebley is not on their witness list.
Original Article : HERE ; The Ultimate Survival Food: The Lost Ways